Because I am a male, I am inexorably drawn to cool, shiny bits of technology. And unless you have had your head buried in the sand for the past few days, "cool, shiny bits of technology" now includes the
iPhone 4
.
Don't get me wrong, I hate
Apple
as much as any sane-minded person, and it is for this reason that I have refrained from buying an iPhone until now.
I have sat back and watched as countless legions of Apple-lovers have rushed to the shops on launch day to grab the latest "all-new" iPhone. Laughed at those who looked disdainfully at their lowly 3G as they queued for days to get their manicured hands on the 3GS. Stared in open-mouthed wonder at how these people can spend thousands, thousands!, of dollars on each successive model of the same bloody phone, barely months after they bought the last one. And as for the iPad! Christ. The less said about that, the better.
All of that has changed with the iPhone 4. Now I myself am going to be one of those cool people standing in line outside my local telco dealer, hopping from one foot t't'other in a vain attempt to contain my excitement.
So, why the massive shift?
The wait is over...
The reason I haven't bought one yet is because I just know that 6-months down the line, Apple will shaft me by selling a better version for the same price. It is my major gripe with Apple; I just cannot justify spending over a thousand dollars on something when I know they are selling me an inferior product early simply to line their coffers. Apple sold you the original iPhone without 3G network support, knowing full well they could release another model in a few months time with it included as standard, for the same price, and that people would still buy it in their droves.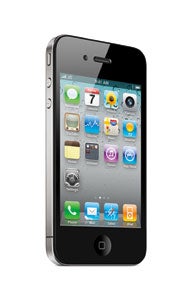 The same can be said of the other models. When they finally did put 3G support on the iPhone (not to be confused with saying the
iPhone 3G
or Touch 3G, which means third-generation; 3G is a cellular network), a few months later they made one that was actually fast enough to make use of it, with the 3GS.
And now we arrive at the latest edition in the guise of the iPhone 4. The reason I want to break my Apple-avoiding trend is because I just don't think they can fit any more on the damn thing. This is finally the iPhone that I can buy without knowing in my heart that it will be rendered useless within a few months. While I am sure they will release a version with proper FaceTime mobile network support down the line (more on that later), its pretty much a non-issue because I highly doubt I will ever use it. You kinda had to have the 3G network support. You kinda had to have the faster system that the 3GS provided. But for once, you kinda don't really need the FaceTime improvements, and so there is no reason to buy the iPhone 4.5 or whatever it will be called. For me, this is the end of the line as far as upgrades go with the iPhone; so I think now is the time to save up and finally get one to see what all the fuss is about.
Stop slagging off Apple, tell us what it can do!
Basically, anything the 3GS can do, 4 can do better. It has the same marvelous, annoy-your-friends-by-constantly-showing-it-off multitouch screen that the iPhone is famous for; the same operating system that allows for email, web-browsing and media playing (and now you have multitasking so you can do it all at once); and retains the access to the all-important app store.
However, the new model boasts a few nice new features that send the want-one factor skyrocketing. If you want to be assaulted by Apple propaganda, questionably correct English and a self-indulgent mastabatory sales pitch, then I suggest you click
this link
to see what Apple themselves have to say. Otherwise, I'll give you a quick summary.
First of all, I would have to disagree with Apple at putting the FaceTime feature first on their list. Far more impressive is the new 'Retina Display' screen. While the claims that it is simply too brilliant for your feeble human eyes to comprehend smacks just a bit too much of hypery, if the actual numbers are correct, it is a significant leap forward. I am all for a screen that has crystal clear sharpness considering I am going to be staring at it for most of the time I hold the phone in my hand.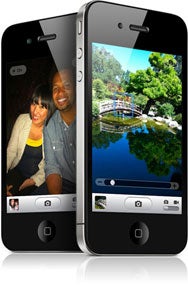 Secondly comes the redesigned styling. I must admit that I think, as an object, the iPhone was already a gorgeous thing to look at. With the new metal rim that doubles as the antenna, coupled with the flat glass back (as opposed to the curvy back on the earlier models), its as though the pretty woman has put on some lingerie. If I ever had to showcase a brilliant piece of design, that appeals to me on seemingly every level, I would show them the iPhone 4. Its just stunning, and I want to have sexual relations with it.
So what is this FaceTime thing I've mentioned all about? Well, you know how most top phones have had video-calling for a while now? Yeah. Now the iPhone has it too. Reading the trope Apple has put about it makes you wonder whether Steve Jobs has removed his head from his arse for five minutes to see if its already been done. Quite clearly he hasn't, so if we ignore the sensationalist claims that video-calling is now a reality, we can look at it critically. And the big thing to note is that this only works iPhone 4 to iPhone 4, via wi-fi; which I think makes the whole thing a bit useless. What is the point in having the ability to videophone someone on your mobile when you can't use the mobile phone network? I think we already have something for that. Its called Skype. Correct, you can't Skype on your phone (unless you have the app), but considering the only wi-fi hotspots I generally connect to are at home and at Uni, when I have my netbook with me, its not such an issue; and I am willing to bet its the same sort of situation for a lot of the people buying an iPhone.
Things do look up again when you look at the tech supporting FaceTime; there's a new 5 megapixel camera, with flash (html5 doesn't provide physical illumination, much to Jobs's chagrin), and a front-facing camera. Hardly revolutionary, my LG phone has had these things for years, but its a welcome addition at any rate. Especially if you are the sort of person that needs to justify their existence by taking pictures and videos of themselves, as you now have the iMovie app to make pretty slideshows.
When will I be able to buy this magnificent piece of technology?
Well that all depends on where you live. Should you happen to reside on the Moon, then you may have to wait for a while. For the Earth-bound among us, it is going to be anywhere between the end of June and the end of July. The US and UK are getting it around June the 24th I think; while those of us in this gloriously sunny nation of Australia will have to wait a bit longer until some unspecified date in July. Which suits me fine as it gives me enough time to save up to buy the damn thing.
So, its everything you've always secretly longed for from the iPhone, with cool extra bits to sweeten the deal, and a new design to drool over.
Yes please.